Our Products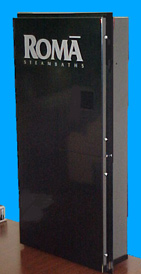 For over 40 years ROMA Steam Bath has provided both residential and commercial steam bath equipment to public and private buyers.
Residential Steam Baths
The ROMA steambath has been installed in finer homes for 43 years. ROMA provides equipment to accommodate any application, size or configuration. Our standard equipment comes complete with a 30-minute timer and a polished chrome steamhead. Please refer to the sizing format sheet to determine the proper size unit. All residential units carry a 10-year warranty and are UL listed for your protection.
Commercial Steam Baths
Commercial Applications of the ROMA steambath have also been installed in finer health clubs, hotels, and resorts for 43 years. Traditional boiler systems require in excess of 15 minutes to produce steam, requiring the club owner to activate the system upon the opening of the club and forcing a continual operation throughout the day. The ROMA steambath is the only instantaneous steam unit on the market today. This allows for a "use-as-needed" approach to their steamrooms. By activating their system only when needed, owners are able to significantly minimize the maintenance associated with the equipment and drastically reduce electrical cost and water consumption. All commercial units carry a one year warranty and are UL listed for your protection.